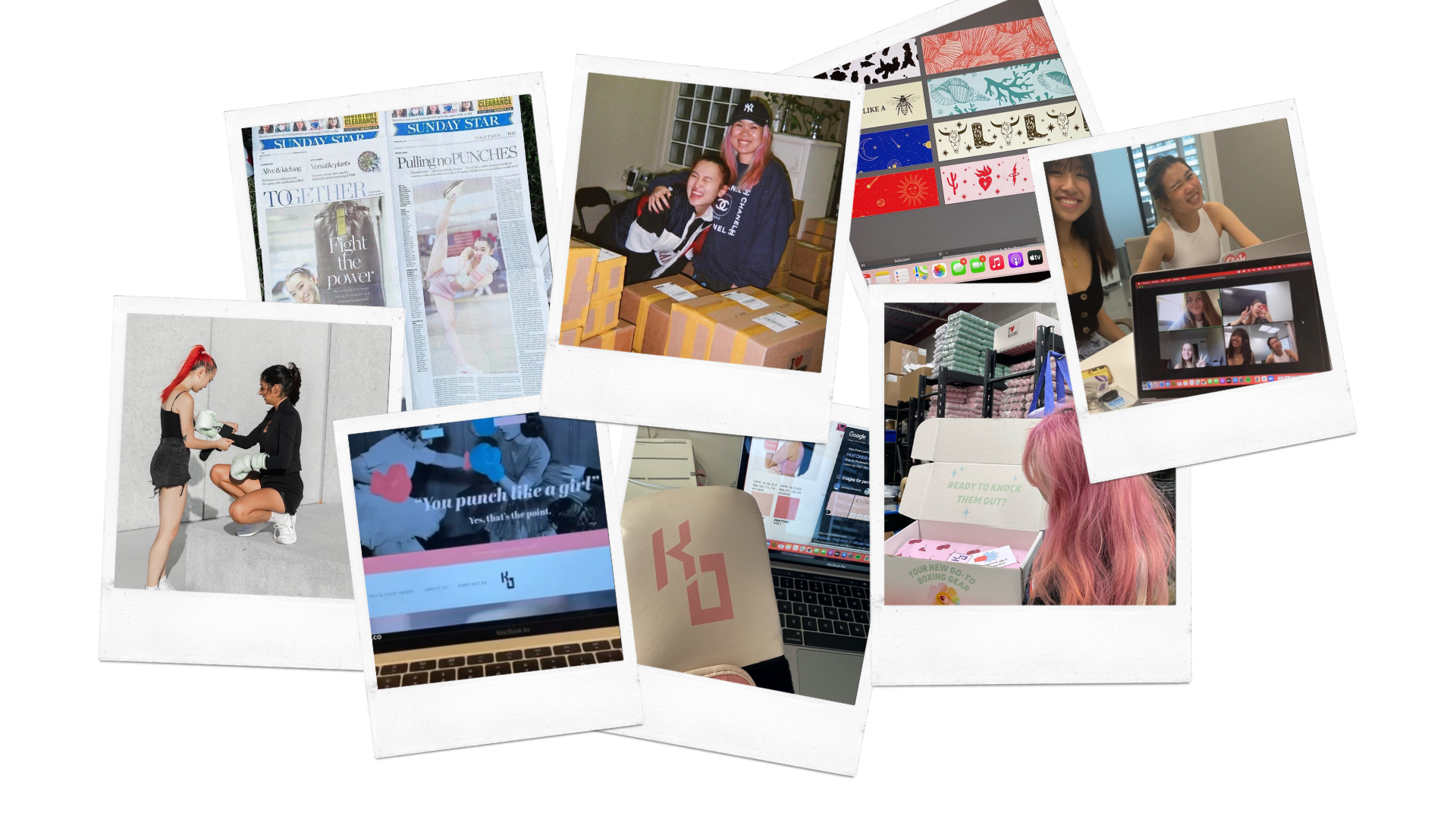 Our Story:
What started as a love for boxing turned into a passion to change the industry. As far too many women know, there is a serious lack of representation and space for women in boxing. KO Studio's mission is to empower women and build up their confidence to be the most vibrant versions of themselves. We created our gear and brought together a community as a way to show women they are never alone and are always the priority.
Our Gear:
Women deserve better options than hot pink tacky gloves designed by men. Our products are designed in house by women who understand this struggle. Not only that, but our products are also tested in-house with design consultants and gender ergonomic experts. KO ensures that we are best suited to cater to female proportions and common injuries women face. So you can feel as good as you look in our gear.
The issue with the current market:

The world of boxing is often defined as hyper-masculine, aggressive, and stern. The equipment that comes out of this industry reflects that. Most boxing companies do not truly cater to female needs, ignoring adjustments to fit and proportion. The products they offer are targeted toward women rather than designed for women. Female fighters are often disregarded in the sport and women in martial arts struggle with the universal experience of ill-fitting and poorly designed gear.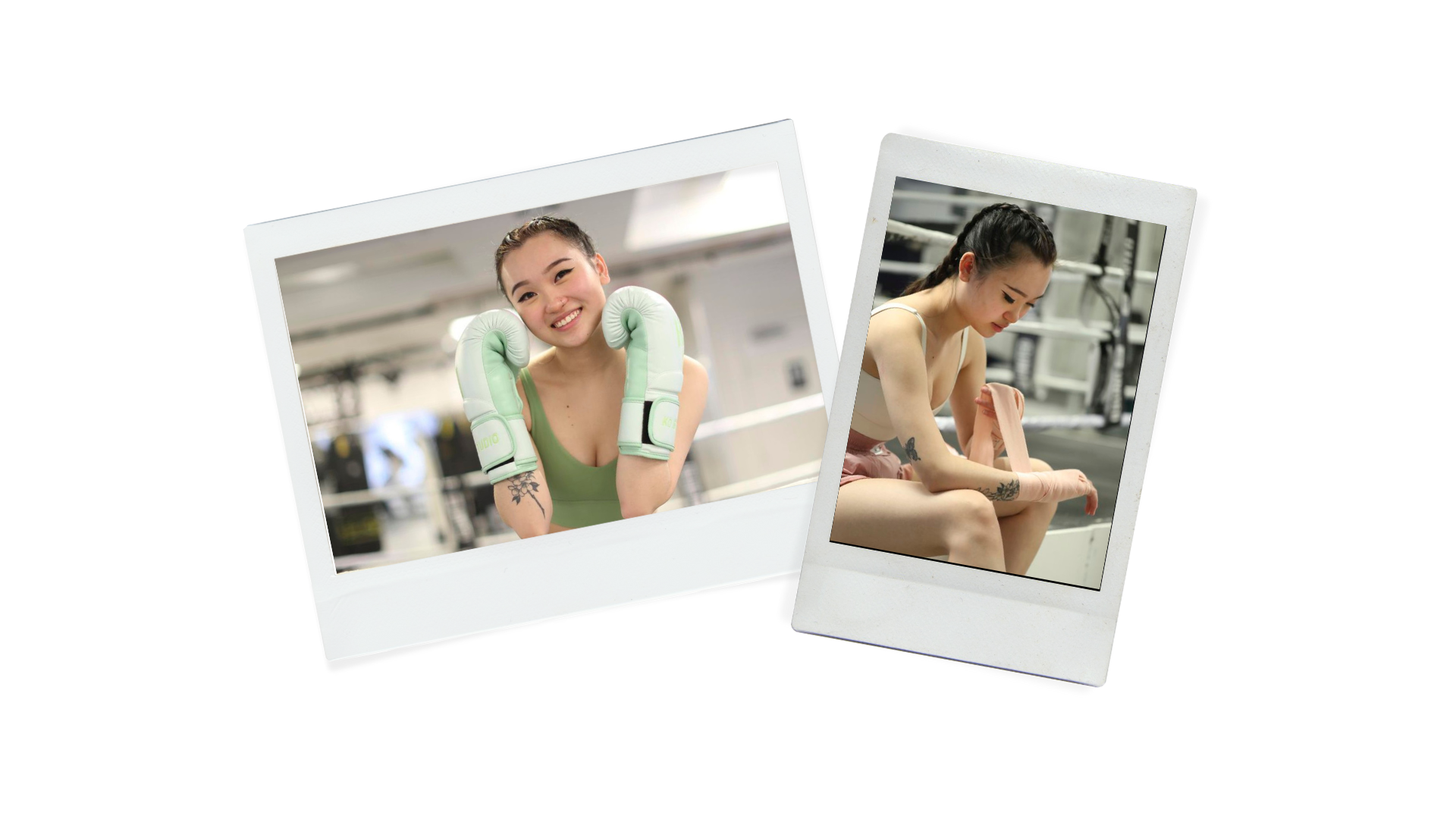 "Boxing showed me that I have the power to change my own circumstances,
so why shouldn't I be able to change the gear and industry too?"
At the lowest point in my life, I hated myself, had zero self-confidence, and had no clue what to do next.


By that time, I was 20 pounds heavier and I knew my life needed a change.
Boxing was the first step on that journey.
I was terrified to step into my first class and it was intimidating to be the only girl at times.
But I knew growth meant I needed to step out of my comfort zone...
What started off as a small goal to get back in shape grew into a complete lifestyle change.
I looked better but more importantly, I felt better.


I remember throwing my first punch, and how good it felt! Entering a state of flow and letting all my anger and disappointment from the world and how inadequate it made feel out on the bag.
As I put in more hours at the gym and built out my training schedule, I grew a newfound sense of confidence and power. It was a true shift in energy and transformation.
Boxing helped me shed my limiting beliefs and I loved leaving every training session knowing that I showed up for myself.

There was only one problem: I never felt like I truly belonged!
And after speaking with other women, I realised it was a universal struggle.
I loved the sport, but not the environment, the gear, or the industry. I could never find equipment that fit me right or represented the way I wanted to show up and express myself.
I was sick of settling for gear that just felt like an afterthought and I knew women deserved better!
Because how could you train confidently without the right equipment, environment, or community to support you?
So in post-training epiphany, KO Studio was born!
Before taking my first boxing class, I had never been in a fight. I never felt like I was good enough and was afraid of taking up space.
But the sport taught me how to take hits, and above all, it gave me the confidence to fight for what I wanted in life.
Boxing showed me that I have the power to change my own circumstances, so why shouldn't I be able to change the gear and industry too?
KO Studio was born from my love for boxing and background in product design, to create everything I wish had existed when I first started!
Thank you for reading until the very end, I'm so excited that you're here on our site!
And even more excited to support you on your journey to being the best version of yourself.
So let's punch stuff 🥊 (and change the world)
Love,
Yin - Founder, KO Studio