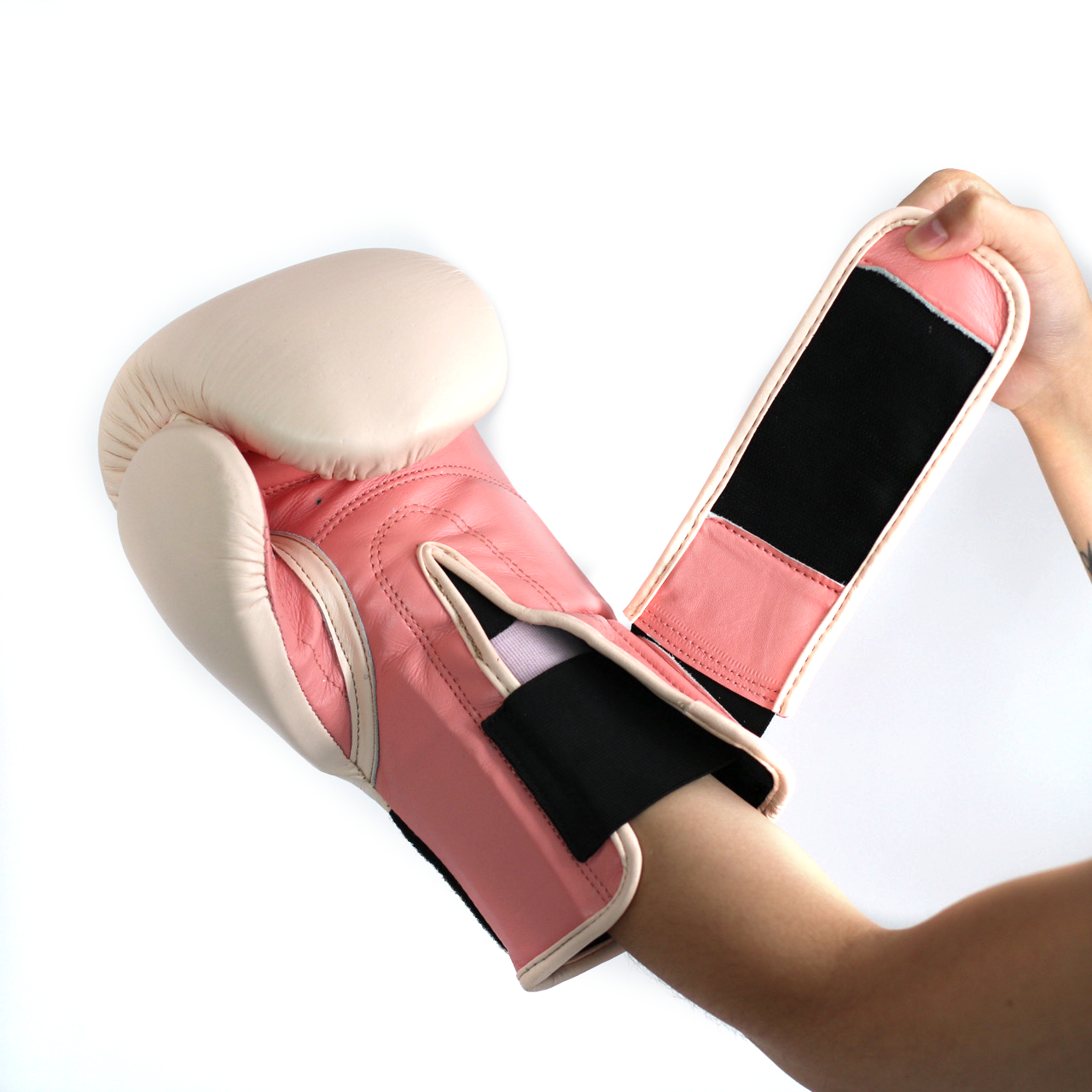 Classic Rosé Boxing Gloves
Free Shipping: On all orders over $175 USD
Features
- Handcrafted using premium materials offering durable comfort, resisting cracks and rips; ideal for bag work and sparring
- Double velcro elastic strap closure ensures free adjustment, allowing for a custom fit and exceptional support for your wrists
- Anatomical curves and ergonomic design for a natural fit
- Adjusted sizing with a slimmer fit for female hands to prevent floating fists
- Multi-layered foam to prepare you for higher impact with shock-absorption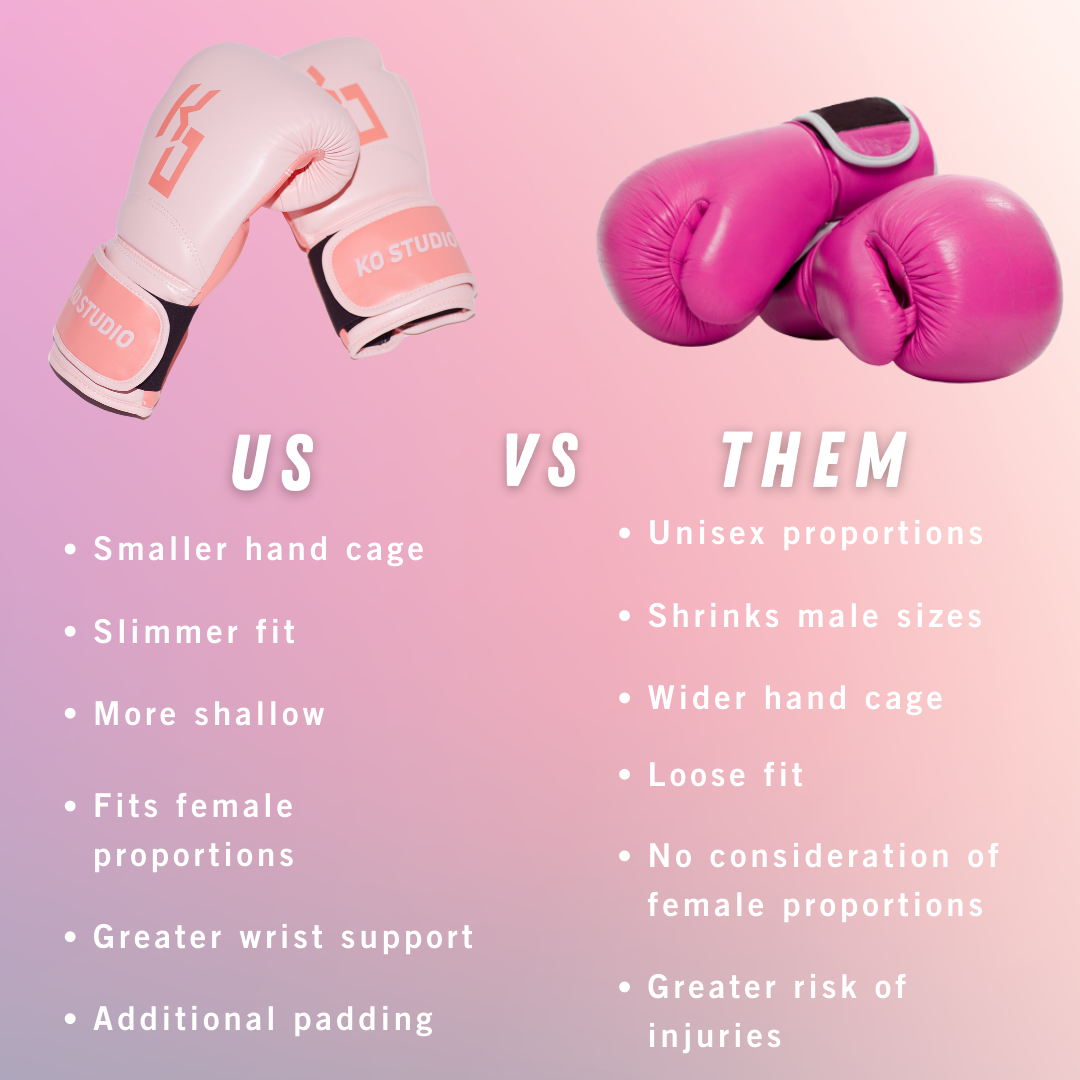 Science Meets Style
TLDR- KO's equipment are cute and functional. Need we say more? We design with you in mind: female proportions to minimize injuries, ergonomic designs that simply make sense, and the female gaze so you can look (and feel) good.
Gear that looks as good as it performs. Are you looking for premium, more durable boxing gear that also looks super cute? Look no further than the Classic KoStudio Boxing Gloves. Designed by women, for women, we understand your needs so you don't have to settle for less.
Perfect for those who are serious boxing enthusiasts, professional boxers, or those who want the best equipment in the ring. Designed in-house and tested by female fighters, our gloves feature a unique silhouette that perfectly contours women's hands without compromising performance. These gloves are made with premium cowhide leather, and are great for bag training, drills, sparring, or mitt work!
Engineered with quality materials using cowhide leather, these gloves will provide better performance, durability, and comfort without sacrificing style. Our specially designed double velcro strap enclosure ensures proper wrist protection, and the multi-layered foam allows for an ergonomic shape to fit your hands perfectly. Whether you're a beginner or pro, these boxing gloves will be your best friend! The KoStudio Boxing Gloves are perfect for fitness classes, kickboxing, muay thai, and boxing.
Key Features
Handcrafted using premium cowhide leather, offering durable comfort, resisting cracks and rips; ideal for bag work and sparring

Built-in outer and inner wrist support for added protection

Adjusted sizing with a slimmer and more shallow fit for female hands to prevent floating fists

Elastic strap closure ensures free adjustment, allowing for a custom fit and exceptional support for your wrists

Anatomical curve and hand ergonomic for a natural fit

Multi-layered foam to prepare you for higher impact with shock-absorption

Made of cowhide leather
The perfect glove is essential in your boxing journey, so step in with KO and strike with confidence.
Classic Boxing Gloves in Rosé.
Unsure of what size to buy? Check out our Glove Guide to help you decide!
Return Policy: All purchases made with discount codes can only be returned for store credit or exchanged for an item of equal or lesser value
 Read about our boxing gloves' warranty here.
USA and Canadian orders are shipped by Canada Post and USPS. International orders are shipped with your local postal service. After processing and leaving the warehouse, items usually take between 7 and 30 days (not including processing time) to arrive at their destination, but can take longer depending on the receiving province/state as well as certain months of the year. Please check with your local postal service for any potential delays. 
We are not currently shipping to South Africa.
We are NOT responsible for addresses that are misspelled or contain missing information, please double check when checking out! We are also not responsible for stolen or lost packages after delivery. 
We are NOT responsible for incorrect orders, if you selected the wrong size or color please email us as soon as possible as we cannot make any changes once the package is shipped. Please double check when checking out!  
Shipments returned to KoStudio.co as undeliverable may charge additional shipping fees to resend.
Unfortunately as of now we do not cover shipping for exchanges or returns. 
 Tracking Updates will be emailed right away when packages are shipped out. Updates will start occurring ONLY when packages arrive in the destined country. 
The time frame for order delivery is divided into two parts:
1) Processing time: Order verification, tailoring, quality check and packaging between 3-7 days.
2) Shipping time: This refers to the time duration it takes for items to be shipped from our warehouse to the destination.
Finally decided to grab these lavender gloves after wanting them for so long and I'm so happy I did! My everlast gloves had very poor wrist support which lead to minor injuries, I've only been using these gloves for a week now to train Muay Thai and have noticed a significant difference. I'm able to put power into my punches without risking injury, the cage also fits my fist a lot better.
High quality and super comfy!
I use these for Muay Thai and practicing on the punching bag and they're super comfortable, with or without wraps, and simple and easy to put on.
So Many Compliments <3
I started boxing near the end of February and absolutely fell in love with the Rosé Boxing Gloves! The gloves feel great on the hands and secures my wrist nicely! Packaging was also a plus too! I get so many compliments when Im seen with them :) would def recommend!
They are comfortable and safe
Amazing quality gloves, perfect for my daughter who's doing martial arts. Good value for money. I would recommend it.
beautiful gloves
so glad i invested in these gloves, they are so gorgeous and fit my hands perfectly. i do muay thai so use a 16oz glove and they have always been too loose on my wrists but these are so secure! i will be recommending them to all my female boxer friends